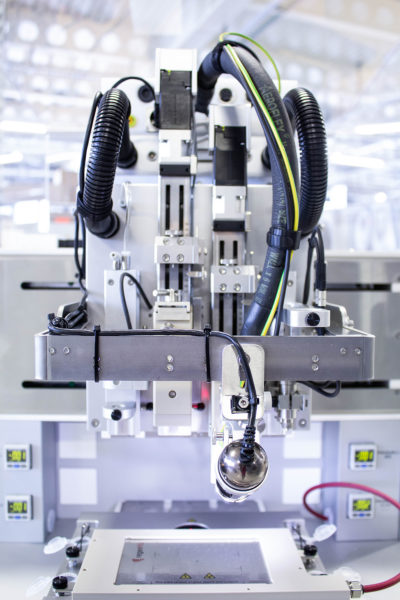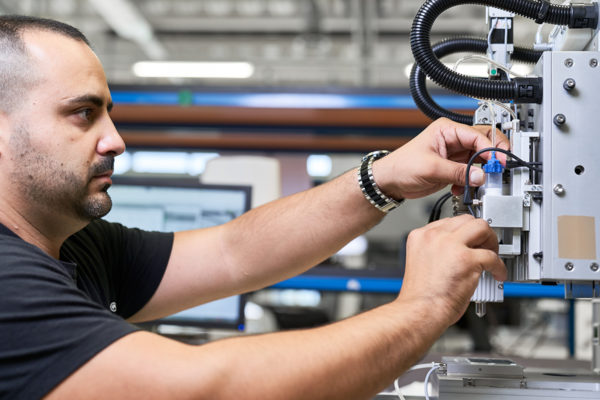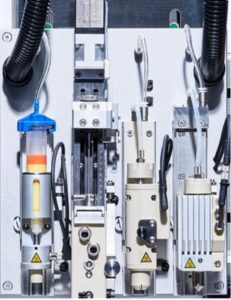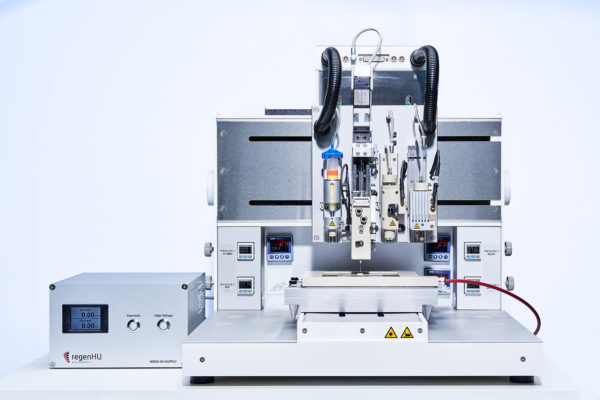 HISTORY
REGENHU started in 2007 with a goal to create and develop bioprinting technologies that will positively impact many medical fields. From the small team that formed REGENHU, which grew our name and reputation we are so proud off – to the rapidly-growing company of today; we remain passionate about advancing bioprinting.
Our first instrument, the BioFactory – an eight printhead bioprinter in a biosafety enclosure – was launched in 2009. It was a huge leap in capability for the then-young bioprinting field and taught us about many challenges, before leading us to the development of the 3DDiscovery Evolution, an instrument that offered convergence of many printing technologies, with unrivalled precision and printing reproducibility. This provided the unmatched flexibility to configure instruments to our users' specific research needs as they change with the development of their research goals. Operational in academic labs, research institutes, biotech and pharma companies in 38 countries, the 3DDiscovery Evolution will continue to support our users' medical research for years to come.
Since 2011, REGENHU has benefited from the investment and support of the Nivalis Group. It is with their continued backing that we are growing as a company, both in terms of structure and ambition.
Our instrument and software engineers, scientific teams and many of our original team members, dedicate their skills to assisting the scientific community in challenging the boundaries of what is possible with 3D bioprinting, contributing passionately to advance medicine.
The success of our user network, the REGENHU family, is incredibly important to us, which is why we are investing so much time to help them, and will continue to do so. We are guiding and supporting them in their research journey, from their initial interest in bioprinting to selecting the perfect instrument to achieve their goals, continuing to help until those goals are achieved.
Benefiting from this unique network of global partnerships with leading scientific innovators and industrial players, we are constantly at the forefront of innovation. Our technology evolves alongside our partners' research needs and continues to expand into new and exciting application areas.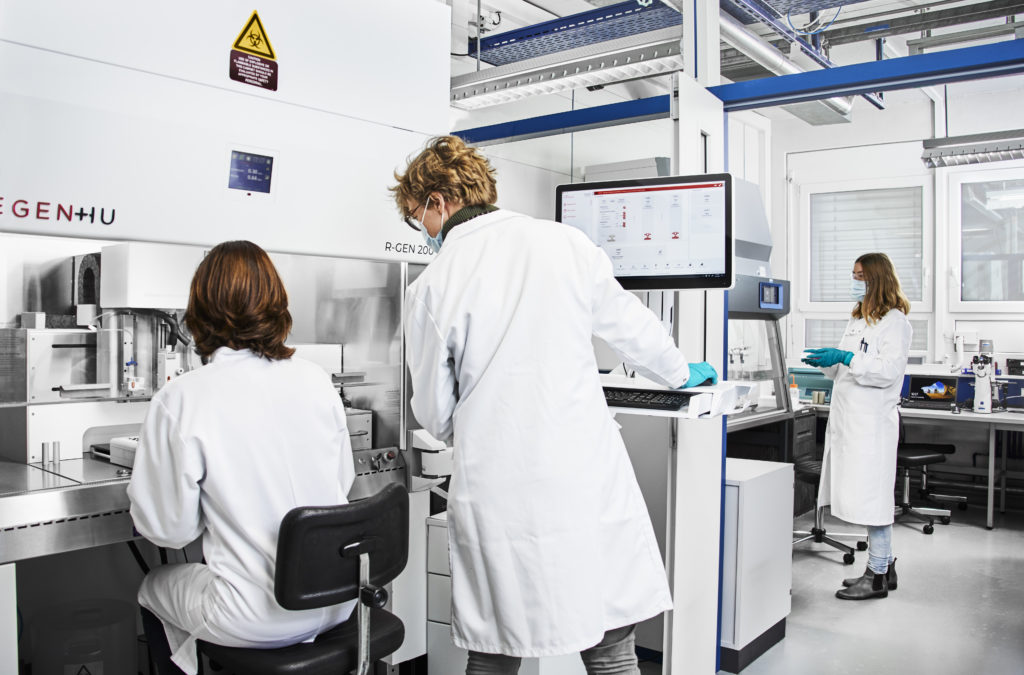 THE FUTURE
We are an ambitious, passionate and driven team that is building research tools for our customers today, with a view of creating instruments that will meet their manufacturing needs of the future. We are already engaged in building these future generation bioprinting instruments alongside our new SHAPER software, which is specifically configured for biofabrication and for manufacturing the future of medicine.
We take great care to understand the journey our customers are taking, and are focused on helping them achieve their largest ambitions. To do this, we are investing heavily in our engineering R&D and sourcing novel technologies from across Europe, in addition to developing our own.
In our new R-GEN 3D bioprinters and SHAPER software, we combine Italian design with Swiss precision engineering to create bioprinters that our customers can use, whether for tissue engineering, regenerative medicine or drug formulation.
REGENHU was formed to build bioprinters that will clearly impact the world of medicine. Today, we remain strong believers in this vision and are driven to accomplishing this.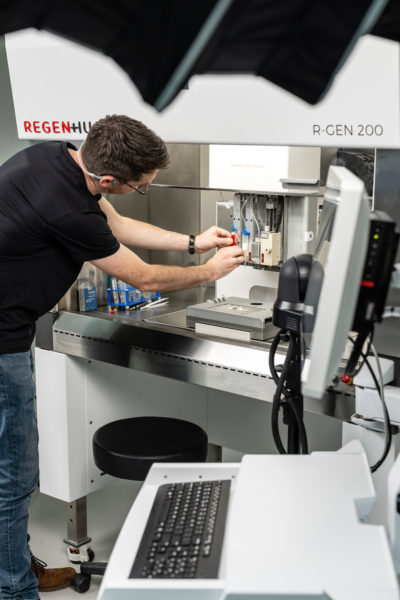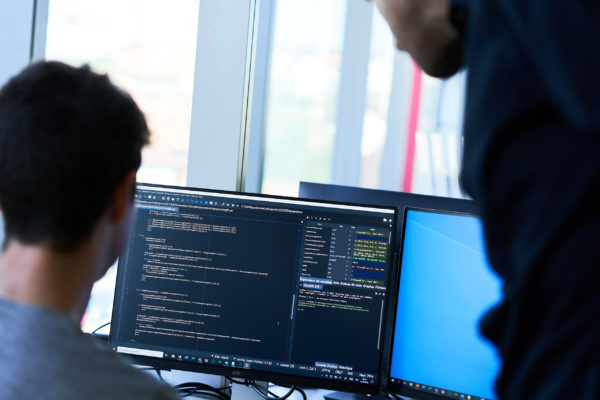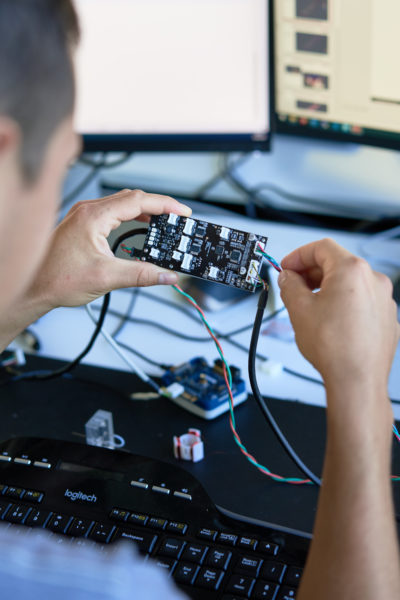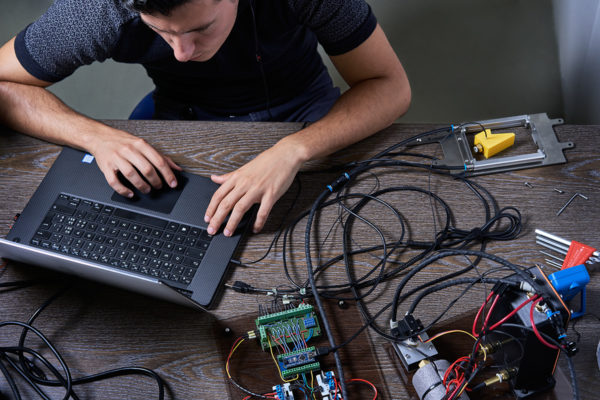 CAREERS
DO YOU WANT A JOB THAT COULD CHANGE THE WORLD?

BE PART OF SOMETHING EXTRAORDINARY AND SHAPE THE FUTURE OF MEDICINE
REGENHU is a Med Tech company made up of many talents and disciplines that work together on its mission to revolutionize the future of medicine.
Our teams are made up of sharp minded, creative and enthusiastic experts in their fields, and we always welcome like-minded people to join us.
Explore our current opportunities or get in contact to express your interest in joining the REGENHU family.