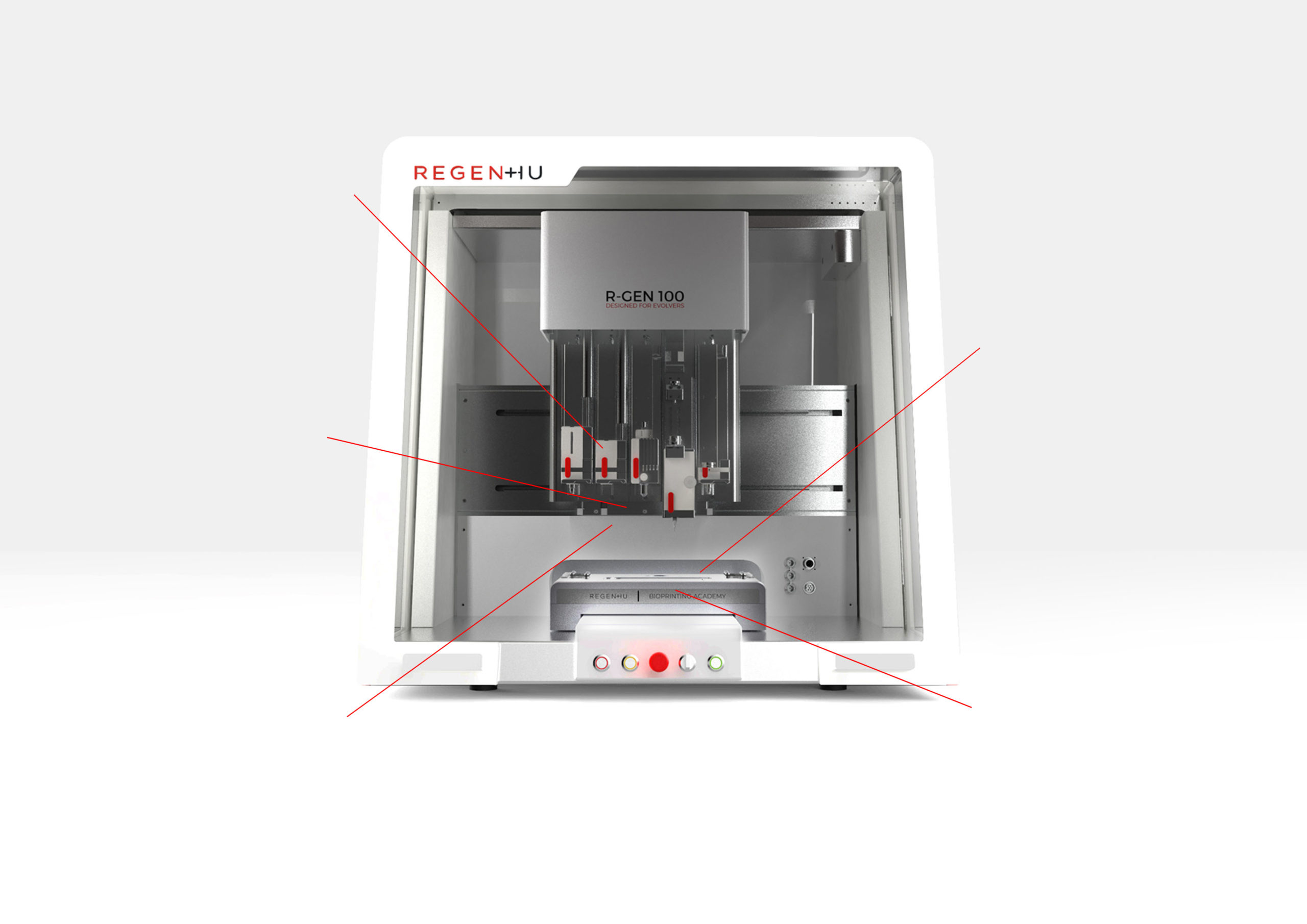 VERSATILE CONFIGURATION
Each of our R-GEN bioprinters is personally configured to specifically meet the needs of our users' bespoke research goals.
Combine jetting, contact dispensing and electrowriting technologies with a full range of auxiliary process options to build simple or complex constructs.
Our scientific advisors are available to guide you to the most suitable and optimal instrument.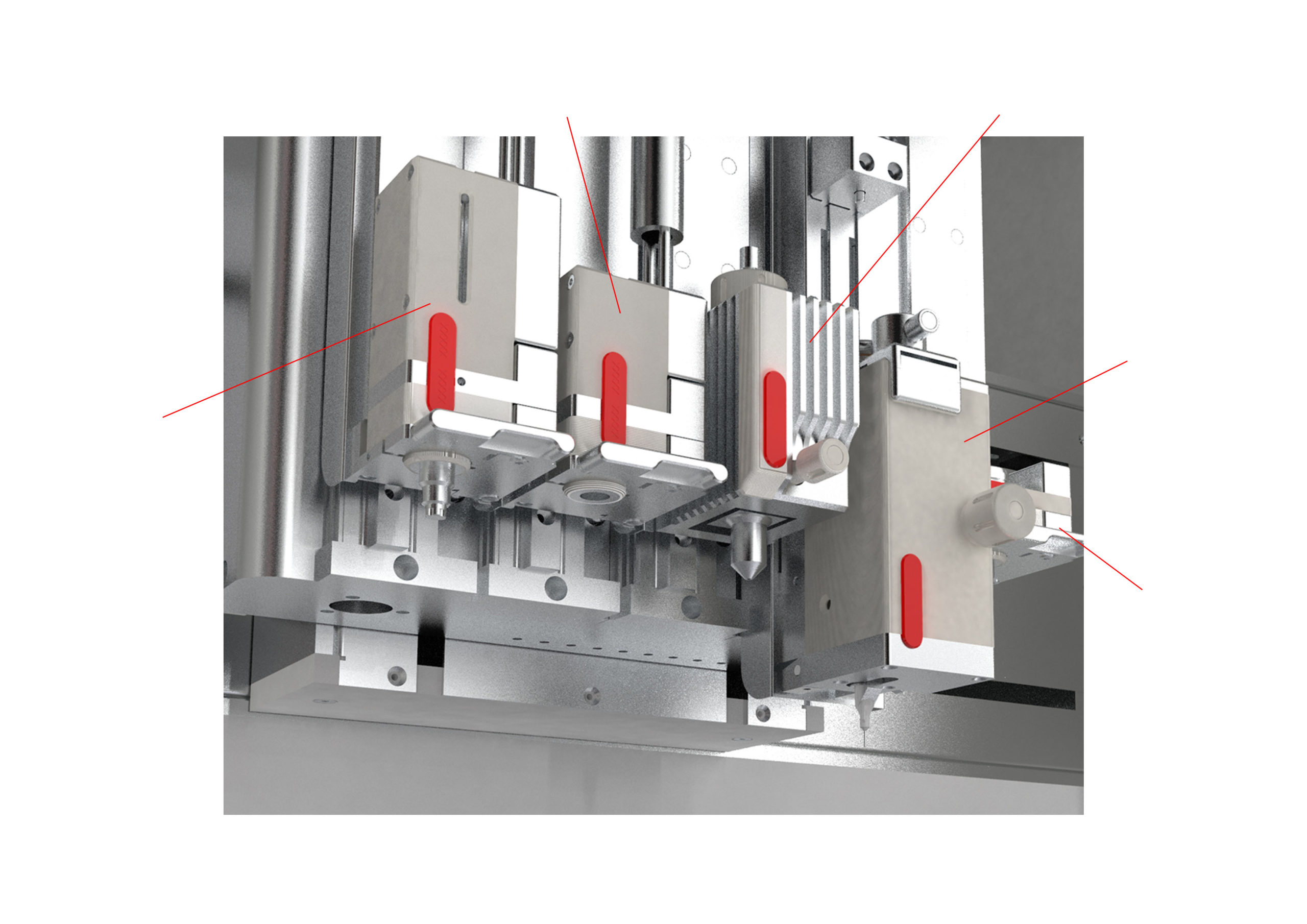 KEY FEATURES
INDEPENDENT TEMPERATURE CONTROL
Independent temperature management of each material cartridge, extrusion nozzle temperature and workzone ensures you maintain optimal print conditions.
ELECTRO-SPINNING AND WRITING
All R-GEN instruments are built with the ability to be easily upgraded with electro-spinning and writing technology to allow the creation of micro- and nano-fibers.
EXCHANGEABLE WORKZONES
The instrument modularity gives you the possibility to easily and quickly change your instrument base plate according to your needs.
Select amongst four different workzones to manage temperature in the physiological range or above, to generate micro- and nano-fibers, or to simply print in specific labware.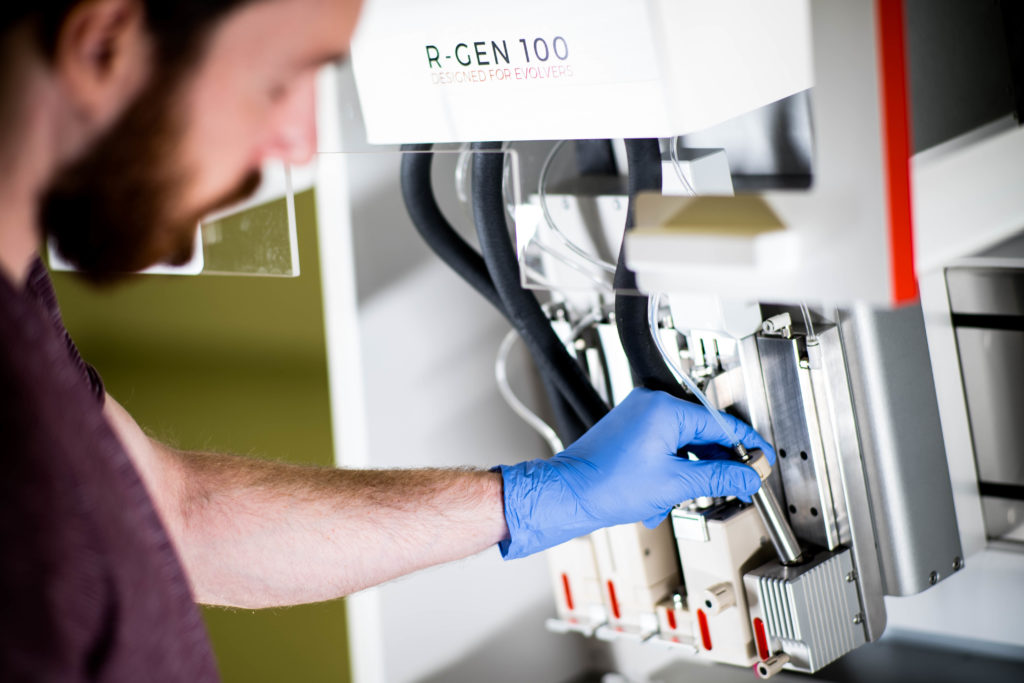 COMPREHENSIVE INSTRUMENT CONTROL
ADJUST PARAMETERS IN REAL TIME
Adjust and refine print parameters any time during the print process.
MONITOR PROTOCOL ACTIONS
Visualize the protocol sequence and action status with the progress tracker.
REDUCE PROTOCOL DEVELOPMENT TIME
Run trial print protocols using rough print parameters, close-up observation and real-time parameter adjustments to quickly identify optimum protocol conditions.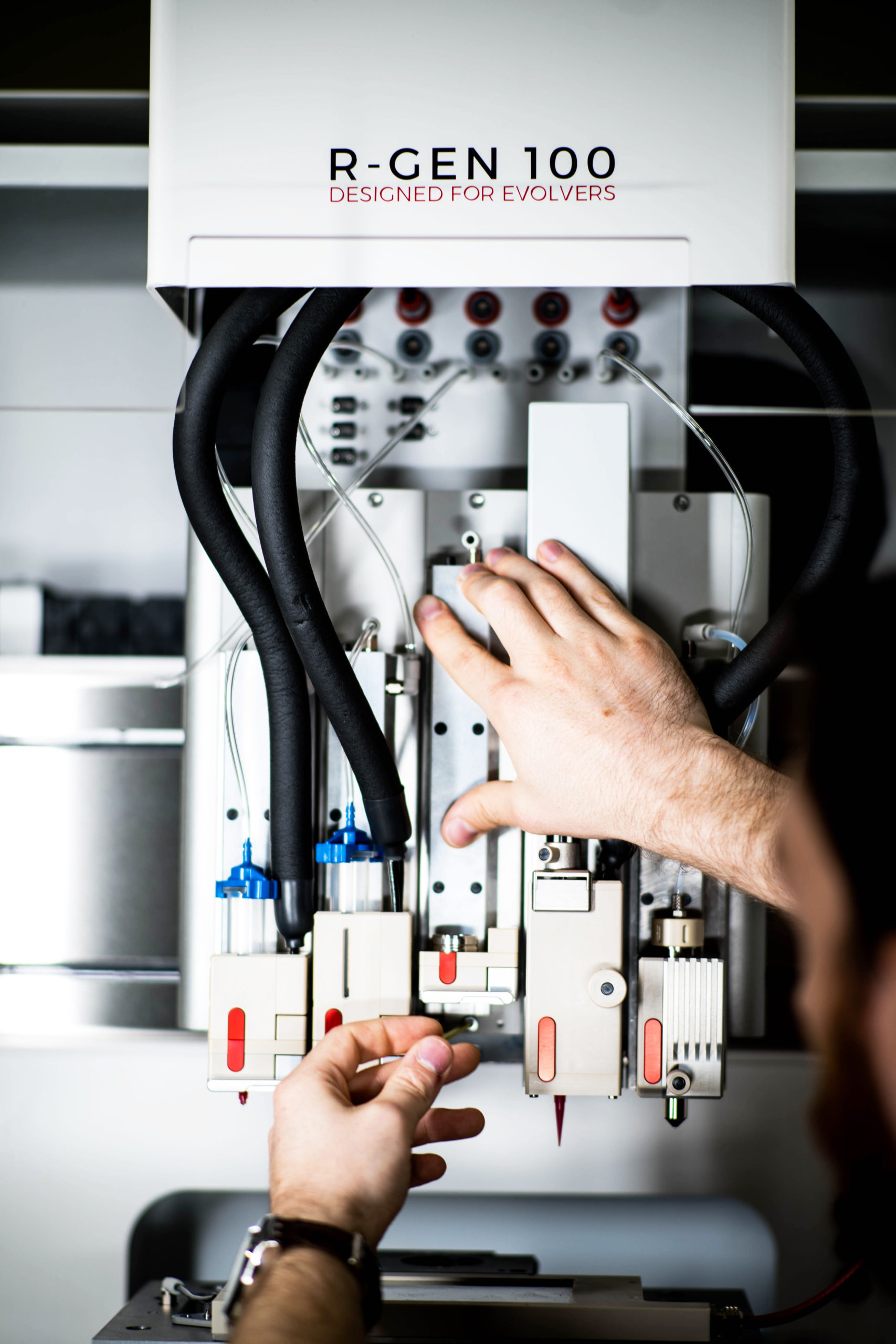 SPECIFICATIONS
Product Name

R-GEN 100

Description

Tabletop configurable 3D bioprinter with process interaction and technology convergence.

Base Instruments

A tabletop bioprinter, accommodating up to five printing tools with individual temperature control capability, vacuum sample mounting system, four different printing workzones with temperature control options, needle and substrate calibration systems, a process supervision system, and light curing for in-process material crosslinking.

Workzone

All print tools able to reach full extent of printing workzone.

Max build zone: 130 x 90 x 65 mm

Control Software

Live process interaction with R-GEN CONTROLLER (e.g. parameter changing, process interruption).

Installation data

Footprint: 770 x 720 x 760 mm
Weight: 160 kg
Pneumatic: 8 Bar - Air quality : ISO 8573-1:2010 [1:4:1]
Network Fuse: 100-240VAC/4.46-8.52A
Frequency: 50-60 Hz
INSTRUMENT COMPATIBILITY
| | |
| --- | --- |
| Ready-to-use tools | Compatible with Pneumatic Strand Dispenser, Pneumatic Drop Dispenser, Pneumatic Melt Dispenser and Volumetric Strand Dispenser. |
| Workzones | Compatible with Standard Workzone Kit, Physiological Temp Kit, High Temperature Kits and Electrospinning and Writing Kit. |
| Options | Compatible with Light Curing Kit and Process Supervision System. |
| Design Software | Compatible with SHAPER planning software for 2D/3D design and bioprinting process and protocol management. |
| Third-party products | Compatible with Liquid Temperature Control Unit for cartridges and workzone temperature control. |