3D BIOPRINTERS
Our bioprinters offer a wide selection of high-end professional bioprinting instruments for the driving force of scientific advancements in Tissue Engineering, Regenerative Medicine and Drug Discovery.

Discover ~200 scientific publications using regenHU bioprinters:
3DDISCOVERY™ EVOLUTION
Built in a modular approach to guarantee maximum flexibility of use, the 3DDiscovery™ Evolution 3D bioprinter is designed for both experienced scientists and those who are taking their first steps in 3D bioprinting.
Evolutive over time
Our 3D bioprinter will accompany your scientific journey while constantly adapting to new needs. Start with the base unit and finetune it as your research progresses.
Accommodates 6 printheads

Among numerous bioprinting technologies available, six can be installed and used simultaneously to build multimaterial and multicellular 3D constructs.
Modularity
Several accessories including Class II biosafety Cabinet, climate control unit, light source for photoinitiated gelation, individual temperature control systems, or cameras for process monitoring can be integrated.
Technology convergence
The combination of jetting, dispensing, and electrowriting (melt- or solution based) provides unprecedented control of structures at the micro-nano scale.
BIOFACTORY™
High-end solution for Industrial applications
The BioFactory™ is a versatile and cell friendly three-dimensional manufacturing instrument allowing scientists to pattern cells, bio-molecules and a range of soft and rigid materials in desirable 3D composite structures, mimicking natural environments.
Printing under physiological conditions
Laser units for photo polymerization/ biomolecule immobilization
Modularity: Selection of multiple dispensing technologies
Biomanufacturing within a sterile laminar flow hood
Repeatability of micrometer-scale processes
Fast and easy tissue modelling via Bioprinting Suite
Customization options
Datasheet BioFactory™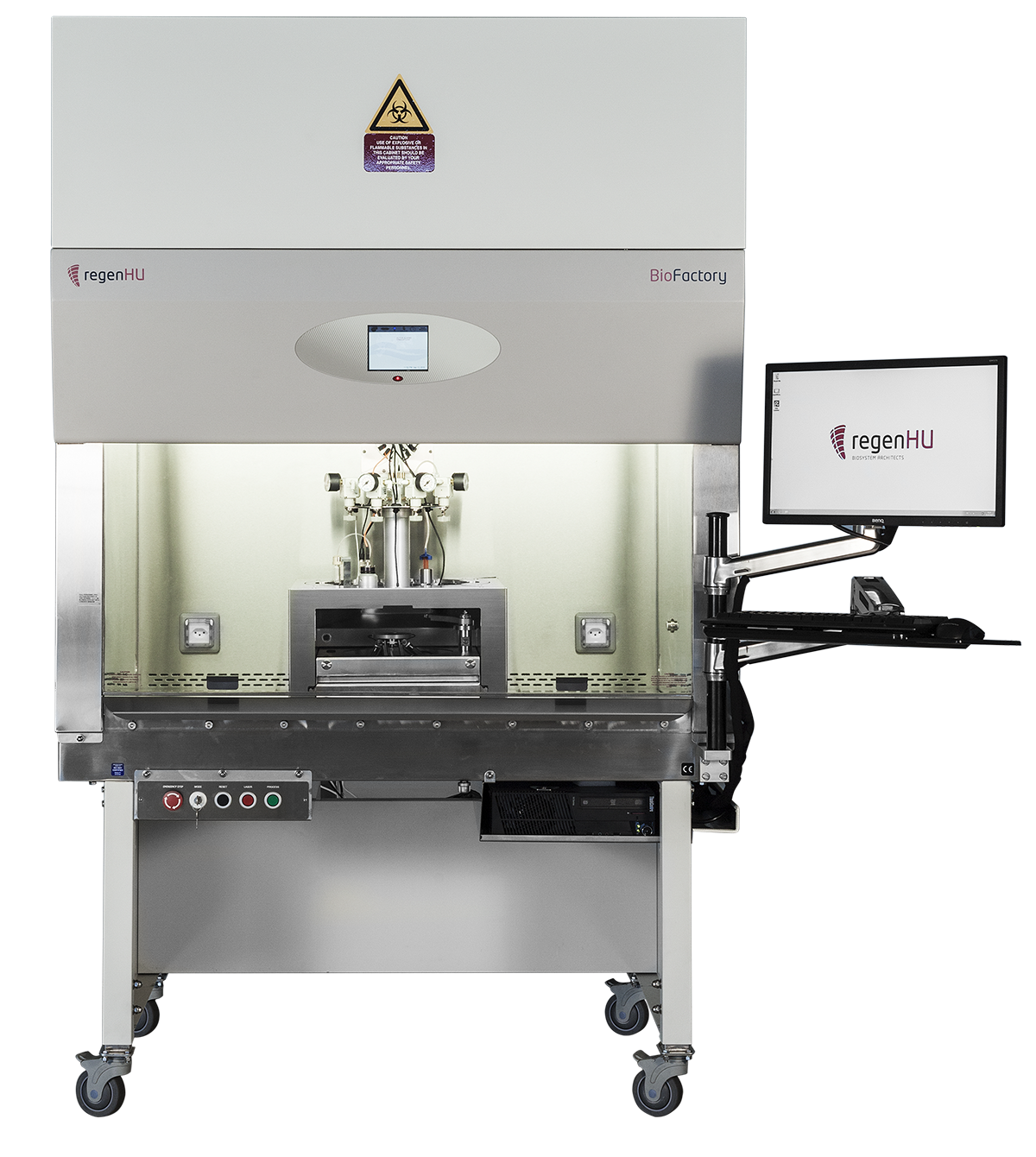 Dedicated to labautomation, organ-on-chip and microfluidics applications


Engineered to maximize cell viability




Enabling complex biomaterials processing


What is the best solution for your application ?












BioFactory™

3DDiscovery™ Evolution








Bench-top

BioSafety Cabinet Class II





PRINTHEADS

5 printing technologies

9 printing technologies

11 printing technologies



Accommodates up to 8 printheads

Accommodates up to 6 printheads

Accommodates up to 6 printheads





Printhead technology convergence

Printhead technology convergence

Printhead technology convergence





Customization to user process

Melt Electrospinning & Bioprinting technology convergence

Melt Electrospinning & Bioprinting technology convergence





-

-

Biostimulation
- Matrix Density / Macro & Nano structural matrix
- Stress stimulation
- Electromagnetic stimulation
- Optical stimulation
- Hydrodynamic stimulation

Direct Dispensing


•

•

•

Cell Friendly

•

•

•

Co-Axial printing

•

•

•

Two component printing

•

•

•

Thermopolymer Extrusion
(Screw driven)

•

•

•

Thermopolymer Extrusion
(Direct Dispensing)

•

•

•

Melt Electrospinning
(MESW)

-

•

•

High precision plunger dispenser

-

•

•

Fused deposition modeling printhead

-

•

•





PHOTO CURING











UV 365nm

•

•

•

UV 520nm

•

•

•

Variable Spectrum
(360- 580)

•

•

•

Laser Direct Polymerization

•

-

•





HEATING











Cartridge Heater

•

•

•

Platform Heating

•

•

•





COOLING











Cartridge Cooling

•

•

•

Platform Cooling

•

•

•





IN-PROCESS CONTROL











Needle length

measurement

Laser

Laser

Laser

Substrate Height
Measurement

-

•

•

XView (QC/PatternC)

-

on request

on request

Tailor Cone Visualizer

-

•

•

Real-time process


visualization

-

•

•





SOFTWARE











BioCAD™

•

•

•

BioCAM™

-

•

•

BioCUT™

•

•

•

In-Control Interface

-

•

•

G-Code Interface

•

•

•





ENVIRONMENTAL
CONTROL











BioSafety

class II

-

class II

Sterility

•

-

•

Chemical Safety

-

-

class X





BUILD VOLUME [W*D*H] [mm]

60 × 55 × 55

130 × 90 × 60

130 × 90 × 60





PRINTING RESOLUTION [μm]

+-5

+-5

+-5





EXTERNAL DIMENSION [mm]

1370 / 1240 / 2400

600 / 700 / 670

1370 / 1240 / 2400





DOWNLOAD BROCHURE